Success of Public-Private Partnerships in West Valley City, UT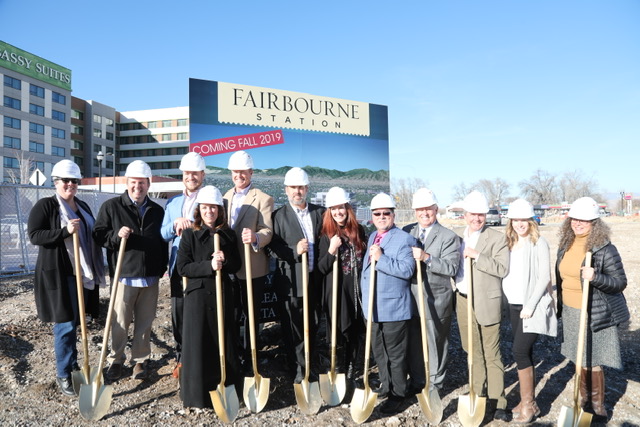 As West Valley City (WVC), Utah, seeks to upgrade infrastructure, establish economy-boosting projects, and address sustainability, the benefits of private-sector involvement have grown.
Public–private partnerships (PPP) have become an increasingly popular way to get major infrastructure projects built. Compared with traditional procurement solutions, PPPs can boost the efficiency and effectiveness of the project through its entire life cycle, from development to the end of the operating phase. PPPs can also spread a project's cost over a more extended period which can free up public funds for investment in other sectors that would not be appropriate candidates for private investment.
WVC has been fortunate to forge a solid public-private partnership with the Wasatch Goup. Fairbourne Station — an 8.5-acre mixed-use development with its first building completed in December 2020 — is a model outcome from the PPP. Fairbourne Station features a nine-story office building, seven-level parking structure, a medical center, Embassy Suites Hotel, light rail transit station, a bus hub with ten converging routes, and two large apartment developments within walking distance of transit. It was designed with aesthetics in mind, featuring green spaces and 360-degree views of the renowned mountains.
"Our development in WVC has produced a "win, win" relationship that has created a shared value for both Wasatch and WVC," said Anita Lockhart, Wasatch Commercial Management President. "In addition to our office development at Fairbourne Station, and because of our relationship with WVC, we have pursued other development opportunities in the Lake Park Business Center located in WVC. WVC has a great staff, and they have all been easy to work with through all aspects of the development process. WVC has been very willing to work with Wasatch to find the right solution to allow projects to happen in their city."
Blake Hanson, Wasatch Guaranty Capital VP Real Estate Development, believes best practices for developers seeking to enter the public-private realm include, "Understanding the community goals, making sure the project is economically feasible, and knowing the site's capacity for the development. Building a relationship with the city and understanding what the people want for their communities is crucial to success. In public-private partnerships, each developer must understand all the key players, i.e., the people and private, public, philanthropic, and nonprofit sectors. Once you understand the key players, you define roles and responsibilities for the use of the land and the built environment. The reason for the PPP is to ensure the planning and development process remains fair and equitable, considering how all of the systems can work together more efficiently. We believe this is imperative to the long-term health of the people we serve and the built world we are all creating."
Hanson elaborated on Wasatch Group's partnership with WVC. "It's often difficult, slow, and detrimental to a sustainable long-term development plan when its a 'us versus them, public versus developer' perspective. The public needs and the overall development process are both complex. Its imperitive that we strive to align interests and goals. WVC has put significant efforts in opening the line of communication to listen and understand the development requirements for our projects and help provide solutions that work well for both parties."
"WVC is a good place to invest," said Lockhart. "First, WVC is business-friendly with a diversified labor force. Second, WVC is centrally located, with easy access to transportation via I-215, I-80, I-15, and SR 201. Third, West Valley Central UTA Trax Station is onsite at Fairbourne Station, and there are multiple Trax lines to WVC and multiple transfer stations from the FrontRunner to Trax. Fourth, WVC is in close proximity to the Salt Lake International Airport. Lastly, many surrounding amenities exist, such as Valley Fair Mall, Embassy Suites Hotel, USANA Amphitheater, Maverik Center, two major golf courses, and multiple restaurants."
West Valley City Economic Optimization Department
The centrality of West Valley City, Utah's second-largest city, delivers exceptional convenience coupled with a desirable cost of living and economical cost of doing business. See how we can help you expand or advance your business today! Contact us at 801-963-3345 or follow us on LinkedIn and Facebook to see our City's recent projects.